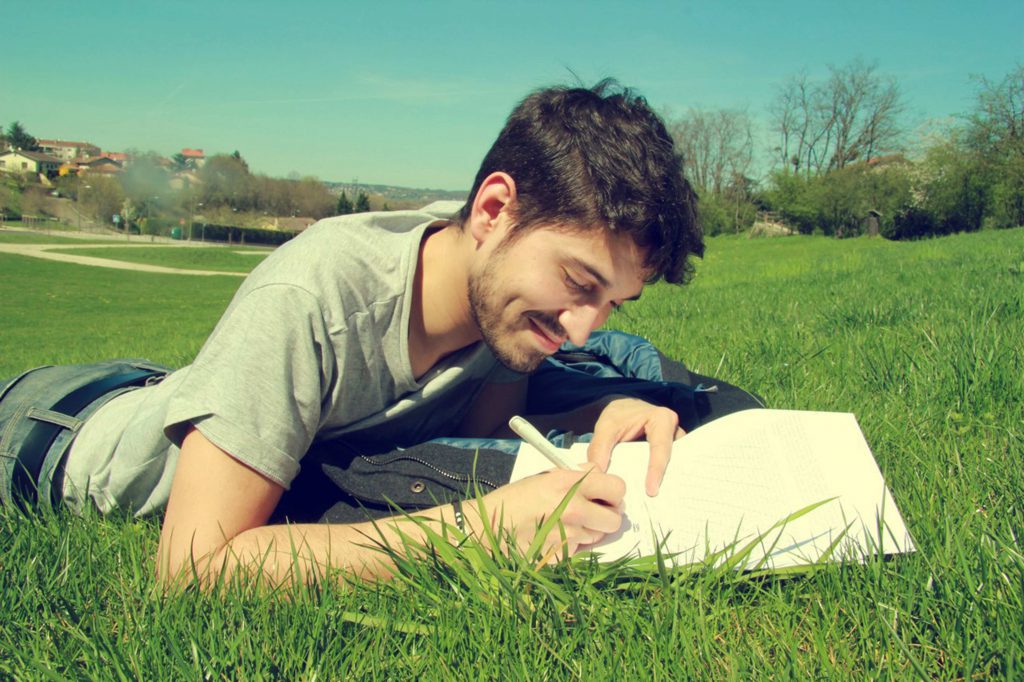 'I have no idea how people cope with nerves on the test day. The previous night I could not sleep and it was hard for my brain to function at 7am in the morning. And of course the result is worse than I anticipated. How can I do better?' — message from a troubled IELTS Blog reader.
Exam stress is not just frustrating; it can have a negative impact on your IELTS band score. But there are measures you can take to help you feel prepared instead of nervous on your IELTS exam day. In this post we will  consider three ways you can get into your best possible form for test day.  
1. Rise and shine
I'm sure every teacher you've ever had has told you to get enough sleep the night before an exam so that you are as sharp as possible on the day itself. But it still needs to be said — you would be surprised by how many zombies turn up on the big day and find it hard to stay focused during the Listening test. (And don't forget that you only get to listen to the IELTS Listening audio once, so if you are not concentrating, you will not get a second chance.) 
My first suggestion is to consider when you are going to do the IELTS exam. Most students choose to take the test during the holiday season (summer vacation, spring break, Christmas holiday etc.) and physically and mentally they are not ready to take an intense, 3-hour exam at seven o'clock in the morning.   
What you really need to do is to tune yourself to an 'exam condition' that allows your brain and senses to be at their best at a particular time of the day. If your IELTS test starts at eight in the morning, do your practice tests at the same time for several days before. This way your body and mind will be accustomed to functioning well at this time of day. 
Do enough exercise so you can shake off some of your stress and sleep soundly the night before the test. Schedule ahead when you should have a cup of tea or coffee, and don't go for a big breakfast. That way you won't feel sleepy in the exam hall. As your teachers will have told you, it's all a matter of common sense — but that doesn't mean you shouldn't think about it in advance.      
Keep your concentration
During the IELTS test, pay no attention to your surroundings, because there is nothing there that can help you. Other candidates are as nervous as you, the invigilators have no interest in you, beyond making sure that you are not cheating, and there is no reason to interact with anything other than your test papers. If you are the type of person who gets distracted by the sounds of loud pencil-writing, coughing and squeaky chairs, consider putting in some earplugs.
Focusing on a task for an hour is a big ask. Given that, according to this article, 'common estimates of the attention span of healthy teenagers and adults range from 10 to 20 minutes,' if you are not used to focusing for 60 minutes, you will need to put in plenty of practice in advance. That should be part of your IELTS preparation.
Control your stress
It's all in the mind. Your stress may come primarily from the fear that you will fail to get the IELTS band score you need. But if you are confident that you can get the required score, then that aspect of your exam stress can be reduced or eliminated. How can you build your confidence? Take IELTS mock tests or practice papers to check the level you are at before you apply for the real test. (There are free mock tests here.) There is no point aiming for an IELTS 7.0 if your current level is IELTS 5.0; but if you need IELTS 5.0 and you are currently at IELTS 7.0, why would you fear the test? Take language proficiency tests such as the Dynamic Placement Test and see if your English is good enough for the band score you need. 
The IELTS test always follows a pattern and consists of a regular set of question types, meaning if you have to retake the test, it is going to look familiar and everything will be more predictable. Didn't do well enough? Don't worry — you can try again anytime you want, and the next one will seem easier. Remember: even Einstein had to re-sit his university entrance exam!
Further reading
Read more about the psychology of exam stress, and how you can control it. This post describes an effective approach.
Read this excellent article from the UK's Guardian newspaper about exam preparation in general. The author looks at six key points, from the role of adrenaline to the clothes you wear on test day. As a bonus, it is exactly the type of article you will be expected to read in the IELTS Reading test.