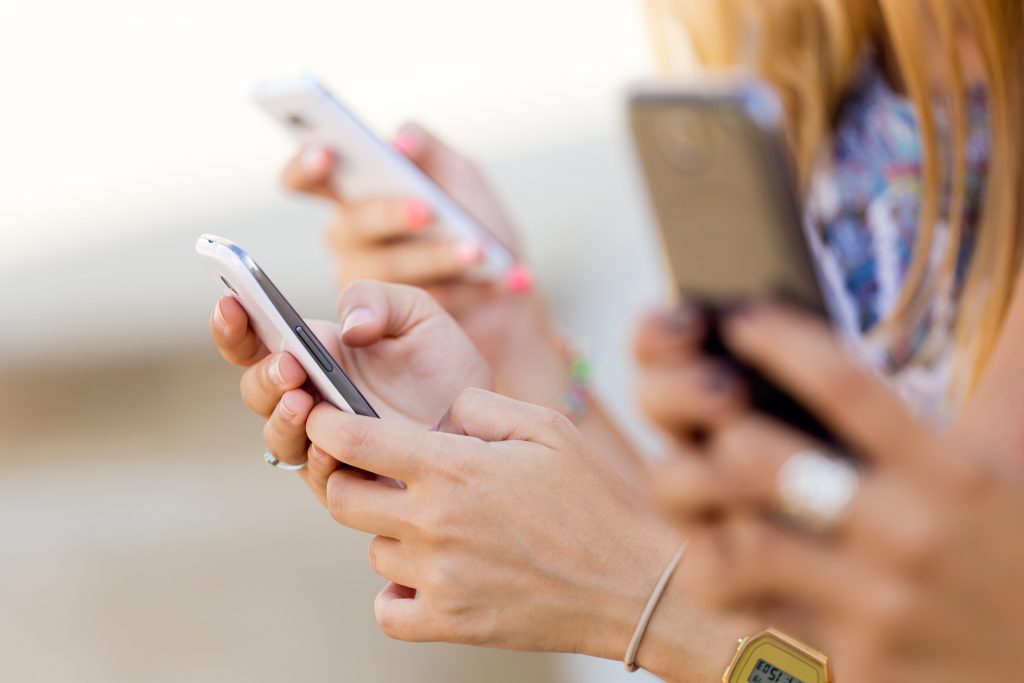 In this post we will look at IELTS Reading practice, IELTS Listening practice, and IELTS vocabulary — how to develop your vocabulary so that you can get the IELTS score you need. The focus of the post is on using your mobile phone to prepare for the IELTS test.
How many times do you check your mobile every day? Research shows that North Americans check their social media accounts on average 17 times a day; young people in the UK spend more than 27 hours a week on their phones; in Malaysia and Qatar it's 40 times a day — and even that may be an under-estimate!. So let's look at how these devices, which we all have at our fingertips, offer opportunities to boost your IELTS band score?. In this post we will look at four ways in which they do.
1. Start by practising for IELTS Reading (and Listening)
The official IELTS Guide for Teachers states that IELTS Academic Reading test passages 'are taken from books, journals, magazines and newspapers and are on academic topics of general interest. All have been selected for a nonspecialist audience.' This means that to do well in IELTS Reading, you need to familiarise yourself with this kind of text. You need to do as much background reading as you can.
Your smartphone gives you access to almost every major English language newspaper on earth, and most of them are free. Mobiles are good for reading because you carry them with you like a book. It's easy to take them out in a cafe or on a park bench and to spend a spare ten or fifteen minutes reading an article. This way you are preparing for your IELTS Reading test without even realising it. Try The Guardian (UK), the New York Times (US) or The Age (Australia).
Which sections of these newspapers should you look at for IELTS Reading practice? We will focus on IELTS Academic. My first suggestion is that you should read the sections that interest you. If you have no interest in technology, for example, then you will quickly get bored and lose motivation. So, choose two or three areas from the following list to focus on: Travel, Health and fitness, Science and technology, Opinion, Art and design, Film. Try to read an article every day.
For IELTS Reading practice, focus first on how the article is structured: what is the topic of each paragraph? Look at vocabulary: you might choose two or three new words to learn. And look at how the writer uses linking words: however, moreover, as a result of… 
Incidentally, you can practise for IELTS Listening practice works in the same way. I highly recommend BBC Radio 4. It's almost all excellent — just choose a programme that interests you.
2. Move on to vocab work
The British Council's IELTS Word Power app is specifically designed to help you build your vocabulary for the IELTS test. It is organised according to themes (Work and business, Mass media, Social issues, Science and technology, and so on), with target words and practice activities for each theme. While you are having lunch or waiting for a friend, you can spend the time learning a few new words — words which might appear in the IELTS Reading or IELTS Listening tests, or come in handy for Speaking or Writing.
You can also make your own vocab lists from the newspaper articles read. For example, this article includes lots of vocabulary about mental health: self-loathing, failure, bullying, crushed my confidence, self-esteem, self-pity. See if you can understand these words from the context (from understanding the other words around them). If you can't, look them up in the dictionary, note their meanings and learn them. It's helpful to write down the sentence in which you found them. You might decide to focus on a different topic every day and choose five or ten words to learn. That way, you will quickly master a bank of new words.
3.
And
G
et advice from IELTS experts
You are preparing for an important test. You may have read a few of these blog posts. Perhaps you've been working through an IELTS preparation book and it's possible that you've also had advice from a teacher or from the IELTS website. It's all a bit overwhelming, isn't it? Clarity's IELTS Tips app will drip feed advice to help you get the best possible band score. You will receive one tip a day for 30 days, in a form that is digestible and easy to remember. These tips come from British Council IELTS experts, experienced IELTS teachers and examiners from around the world. Like the Word Power app, the IELTS Tips app is free. Download it either from the Apple App Store or Google Play Store.
4. Check your current IELTS band
Do you know what your current IELTS level is? It is difficult to plan your IELTS preparation unless you are aware of the strong and weak areas. It's all too tempting to spend time on the areas that you enjoy and are good at — and the research shows that we tend to do just this — when you should be focusing on the areas you find difficult. So the first step in your IELTS preparation is to check out the IELTS Score Calculator. Click through and follow the instructions. The app will tell you your current level in IELTS Reading and IELTS Listening. You can then work out what you need in the Writing and Speaking tests in order to achieve the required overall IELTS band score.
Use the results to create an IELTS preparation timetable. Allocate the time you are going to spend according to your strength or weakness in a particular area. If you are good at Speaking but weak at Reading, then make sure you schedule more time for \Reading than for Speaking. Then stick to your timetable!
So next time you check your phone, stop and think. Remember that spending a few minutes away from Facebook, and focusing in IELTS Reading practice, IELTS Listening practice or IELTS vocabulary, could be all you need to nudge up your IELTS band score!
---
Further reading:
IELTSPractice
IELTS Speaking: The grammar challenge
IELTS Speaking: Telling the truth…